Another gold hat-trick for Russia
The second day of FIS Roller Ski World Cup in Khanty-mansiysk gave athletes a chance to show their skills on a 200m track. The sprint races took place in the city center nearby one of the most beautiful places of Khanty-Mansiysk – Cathedral of the resurrection of Christ. Guests of Khanty-Mansiysk, citizens, young athletes and fans extended along the 200m track.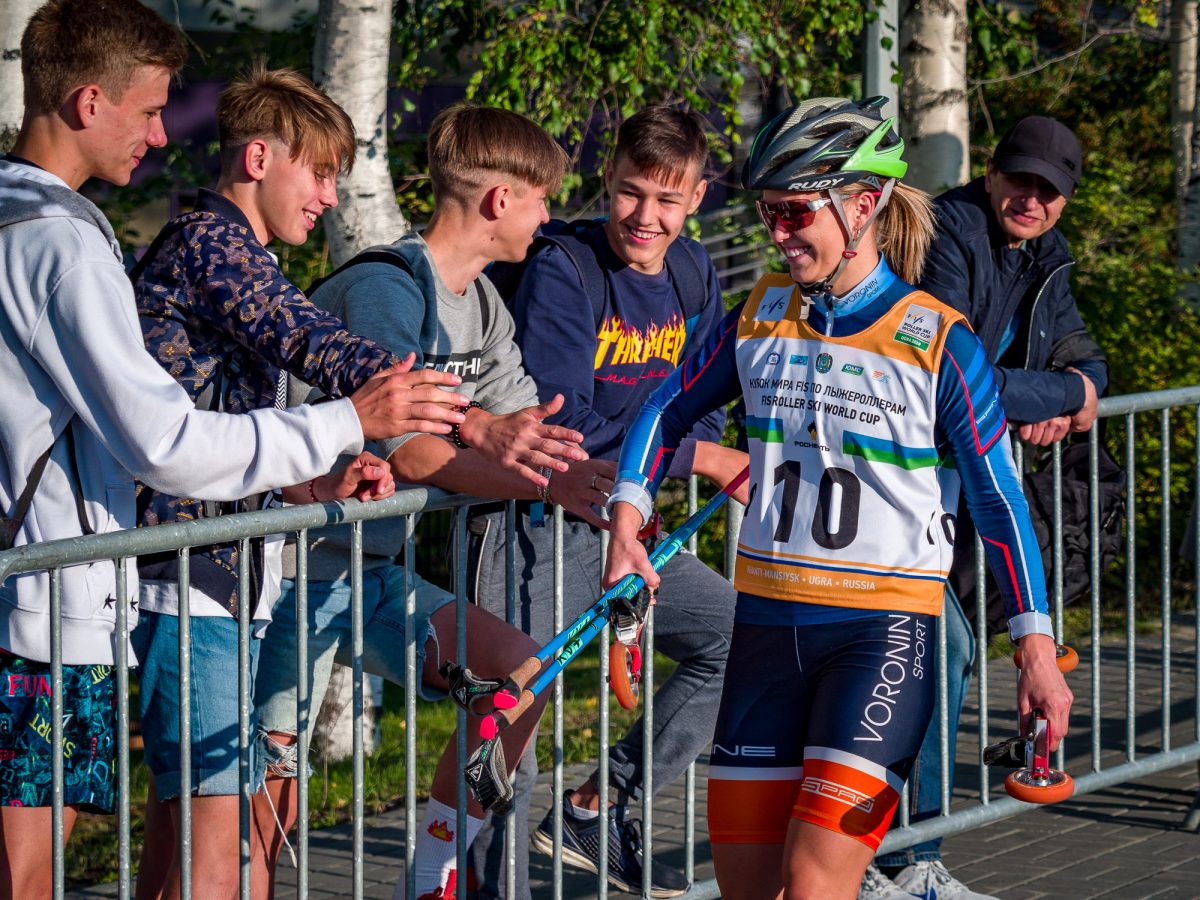 Athletes had to complete the distance one by one with 15 second gap in qualification. 16 best roller skiers got into the quarterfinals. There were not enough participants among junior women so they went straight to semi-finals. The distance was too short to allow any mistakes and athletes had to be really careful calculating every move. One wrong move could be worth the gold.
The best ones in qualifications were Alexander Grigoriev of Russia and Julie Arnesen of Norway among Juniors and Dmitry Voronin of Russia and Lisa Bolzan of Italy. The results were really tight – there were only 2,2 second between the first and the 16th places among men.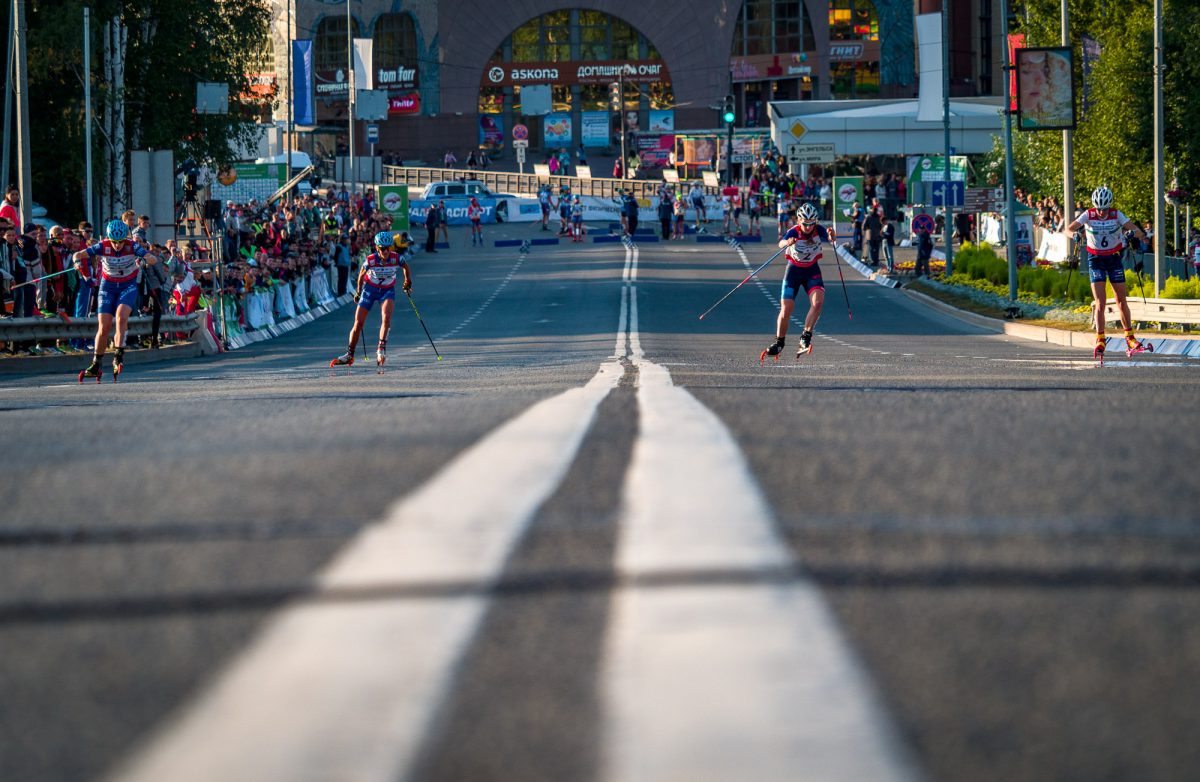 In quarterfinals athletes started four people in a row and took over all the Gagarin street. The best two took part in the semi-finals. It halved the amount of the fighters for the gold and after semi-finals only four athletes were left. Two sisters Bolzan were competing for finals but only Anna managed to get through.
Unfortunately there was no way to avoid a disqualification. Kristian Ankersen of Norway got a yellow card twice for false start this season which led to disqualification and a loss of a chance to get to the finals.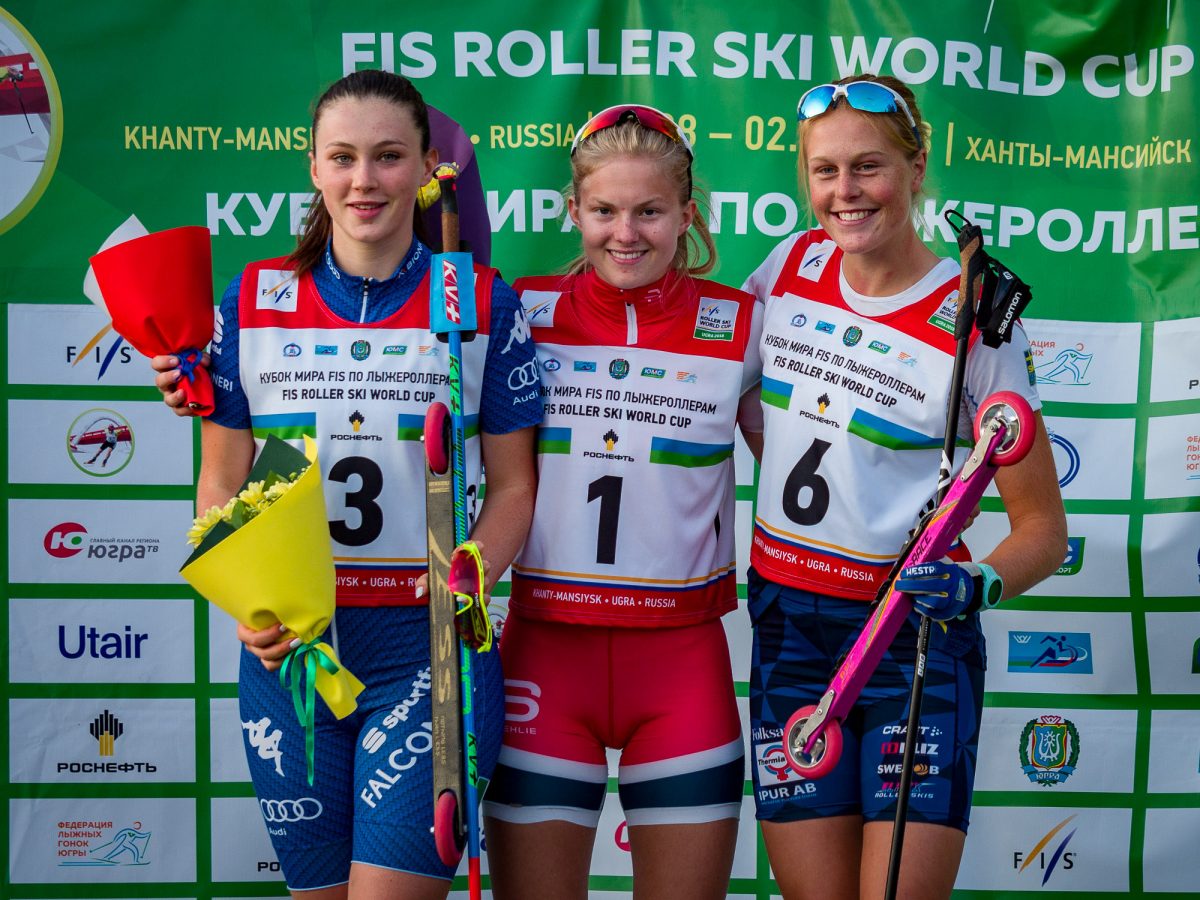 Four countries fought for the win in junior women finals: Russia, Italy, Sweden and Norway. Julie Arnesen won the gold medal. Alba Mortagna of Italy was the second one to cross the finish line. Hanna Abrahamsson won another bronze medal in Khanty-Mansiysk.
"It was really great. I was speeding up along the second part of the distance and everything went pretty well. I am so fond of Khanty-Mansiysk fans. I wish I could compete here once more", – said Julie.
Olga Letucheva won the race in lady's category. Anna Bolzan was the second to finish and Slovenian Alena Prochazkova completed the podium.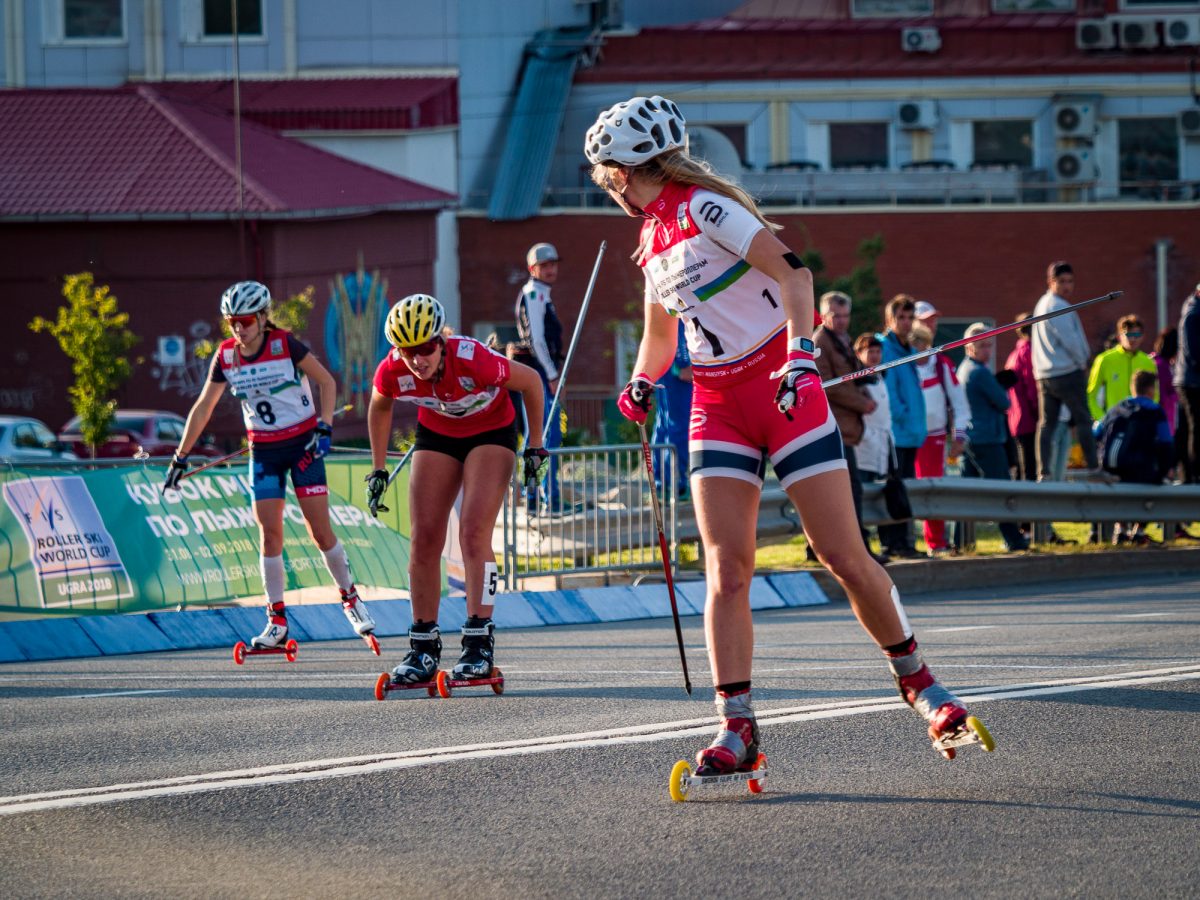 "I don't feel any pressure here. I couldn't fail winning because there were so much people cheering for me. This track and this city really suit me after all", – shared her secret of winning Olga.
The competition between Sweden and Russia in junior men's final was utterly unfair – three russian athletes against the Overall Standing leader Johan Ekberg. And as it was a day before the hosts took over all the podium. Alexander Grigoriev won the race. Maxim Shishlin won the silver medal and Iliya Proskurin was the third one to finish.
Alexander Grigoriev shared his emotions about the victory: "Everything is great really. I am full of emotions right now. The Swedish athlete was my only rival, but I didn't meet any resistance. I started and saw nobody beside me".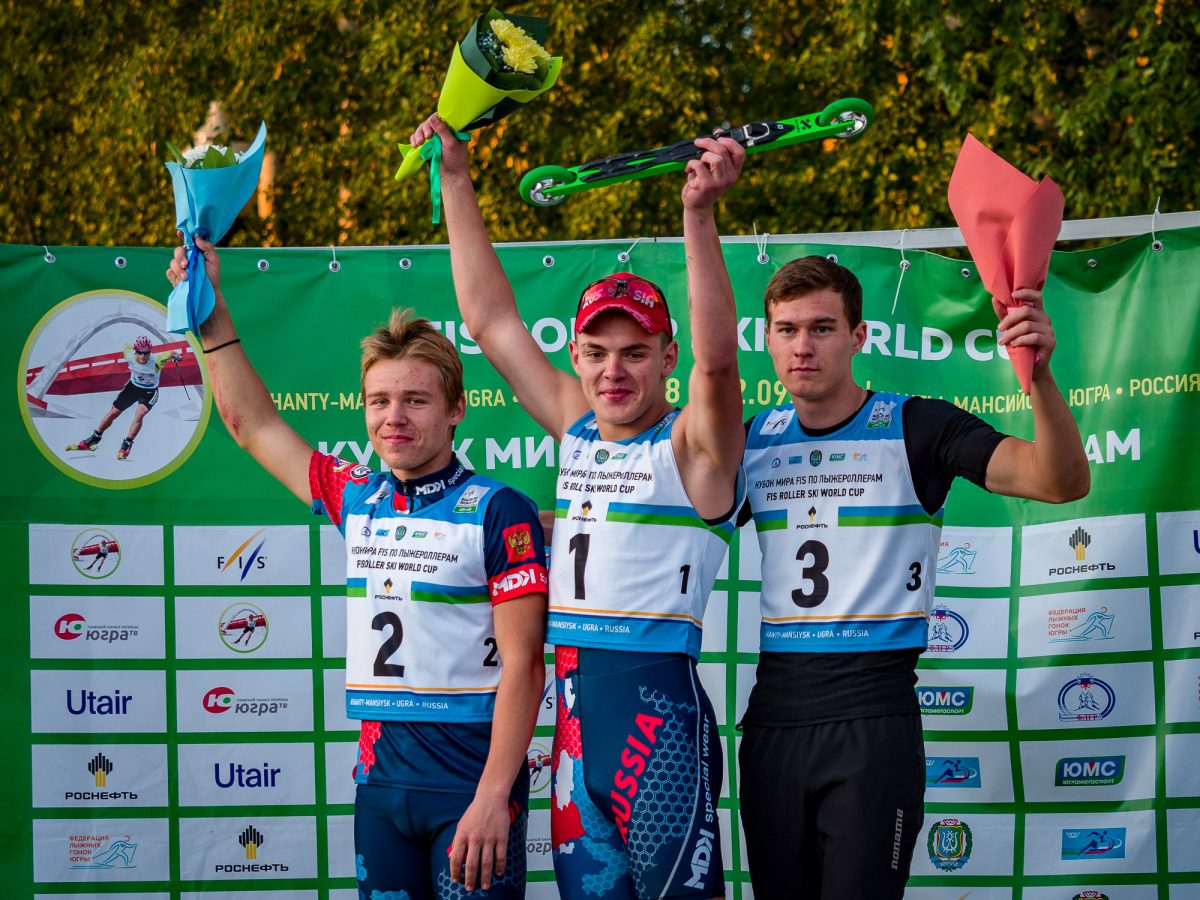 Dmitry Voronin in men's final was marvelous. His advantage in the middle of the race was about several meters. Although finding out who won the silver medal required using a photo finish. With its help it became clear that Emanuel Becchis was the second one to cross the finish line. Becchis has a minor leg injury and deserved a long applause by it. Anton Yuriev won the bronze medal.   
"I've been developing better technique for over five years. Looks like I am the one in a kind. Generally we practice two times a day even though lots of people think sprint is not that important. We are trying everyday to be better than yesterday. Me and Becchis have some kind of a battle between us, we have competed for tree years and he is truly one of the best", – said Dmitry after the victory.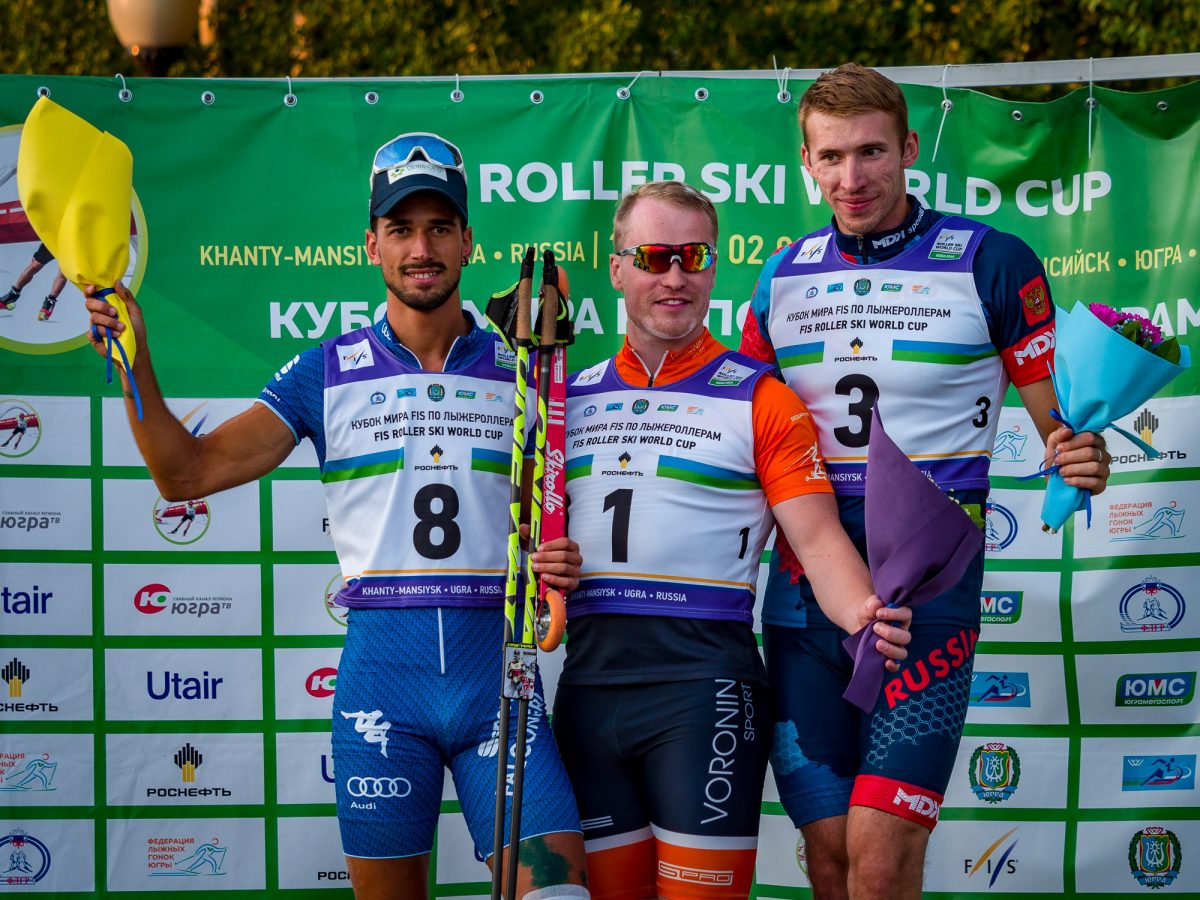 The prize giving ceremony of two days took place on the main square of Khanty-Mansiysk. FIS Roller Ski World Cup will get to the end tomorrow by 15km and 20km mass starts. The races are going to be held on the main streets of Khanty-Mansiysk. They start at 11:00.