Last medal events of Roller Ski World Cup in Khanty-Mansiysk are over
The final day of FIS Roller Ski World Cup in Khanty-Mansiysk gave an opportunity to city dwellers to watch the most spectacular race – mass-start. It was held on the central streets of Ugra capital, so local fans of ski sport were able to enjoy the beauty, speed and bright emotions of roller ski battles.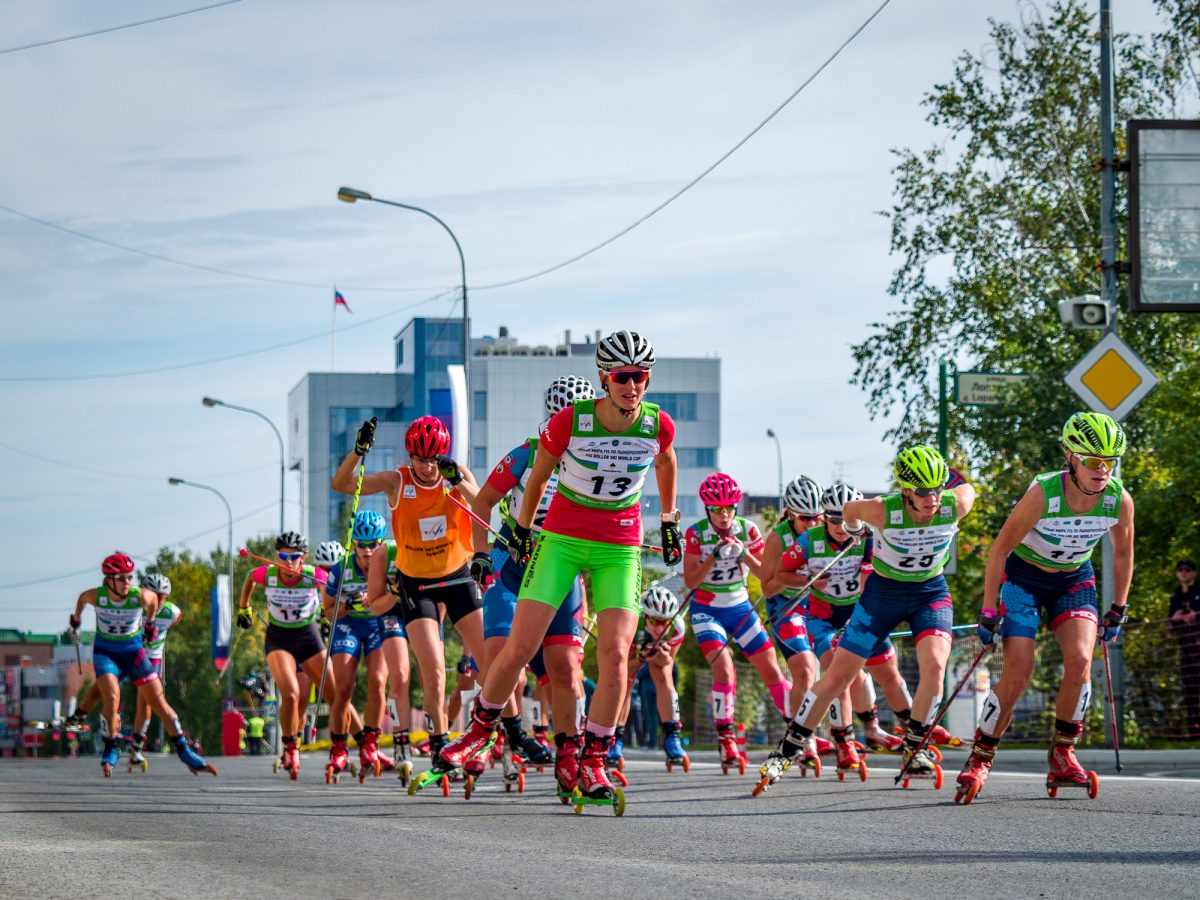 Unpredictable Siberian weather was gracious enough to make all three days of competitions sunny and warm. The last track of the World Cup leg was flat so it was very difficult for athletes to break from the main bunch, this made the intrigue even stronger in all today's races. It wasn't possible to predict who would be the winner until the finish line.
Ladies were the first to start. 19 participants were to run a 13.2 km distance made of 4 laps. Just one minute after them was the start of junior ladies race. After the first lap the main group of women divided into two bunches. One was leaded by Svetlana Nikolaeva of Russia, another one by her compatriot Ekaterina Kuznetsova. Before the final lap they merged into a single group again and were leaded by Sandra Schuetzova of Czech Republic. Only on the final meters of the race Ulyana Gavrilova managed to break ahead and to become the first to cross the finish line with a result 25:41.0. Second best was Alena Prochazkova of Slovakia 0,4 back the winner. Olga Letucheva of Russia with a result 25:41,6 became a bronze medalist.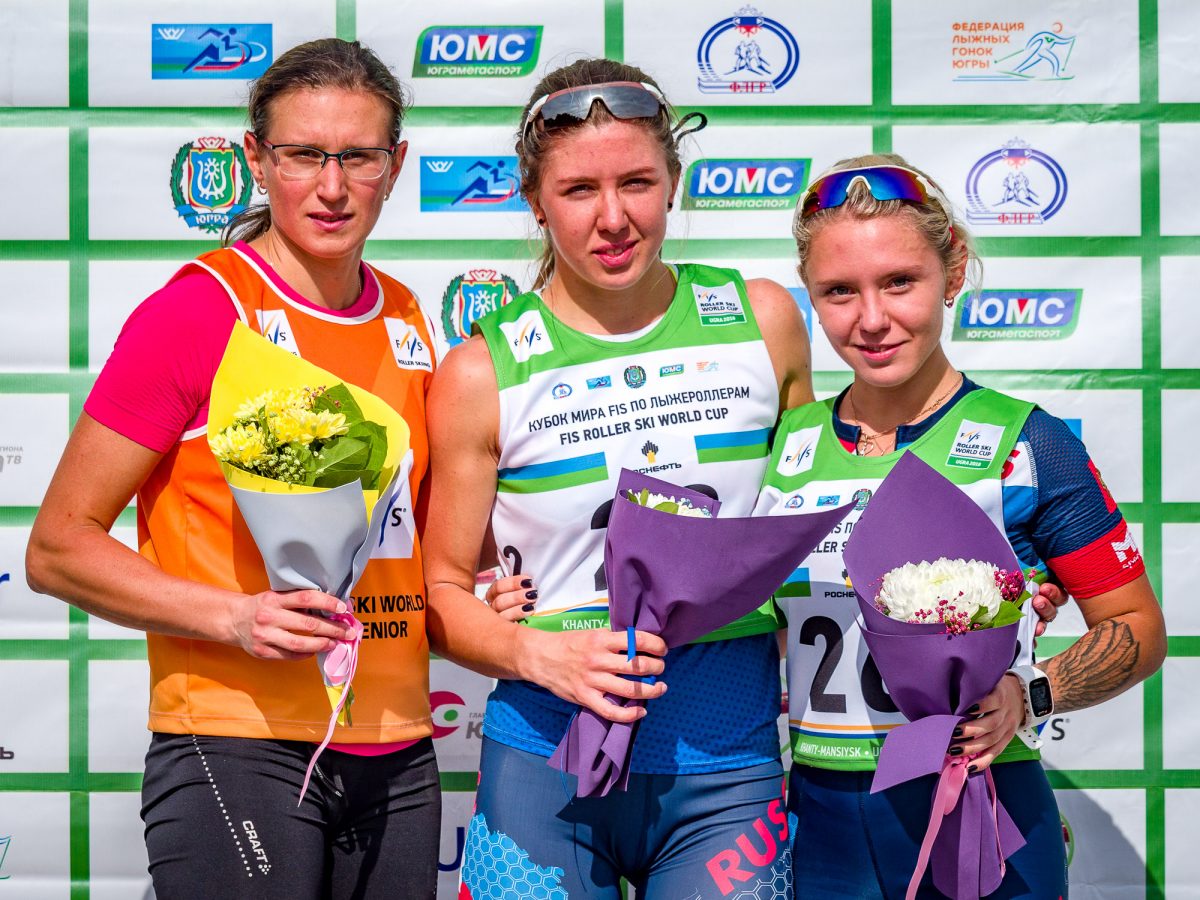 After finish Ulyana Gavrilova shared her emotions about the race: "Most of the race I was somewhere in the end. For me the most important thing today was not to fall down and not to brake my pole. Roughly speaking, the main goal was to show the most I can on the last 200 meters of the race. It was some sort of a sprint. Mass-start is the most tough discipline for me".
Speaking about junior ladies, they were exercising in finish spurts before the last meters of the distance. The main bunch was split after a turn which allowed Alba Mortagna of Italy to finish without so much pressure. German athlete Merle Richter finished second 0,3 seconds back the winner. Hanna Abrahamsson of Sweden got her third bronze in Khanty-Mansiysk.
"I am very happy. The race was tough, but I liked it. There are so many Russian athletes here. It was difficult to keep myself in the leading group and to go ahead. It's nice to see so many fans here cheering and applauding", – said the first gold medalist from Italy on this leg.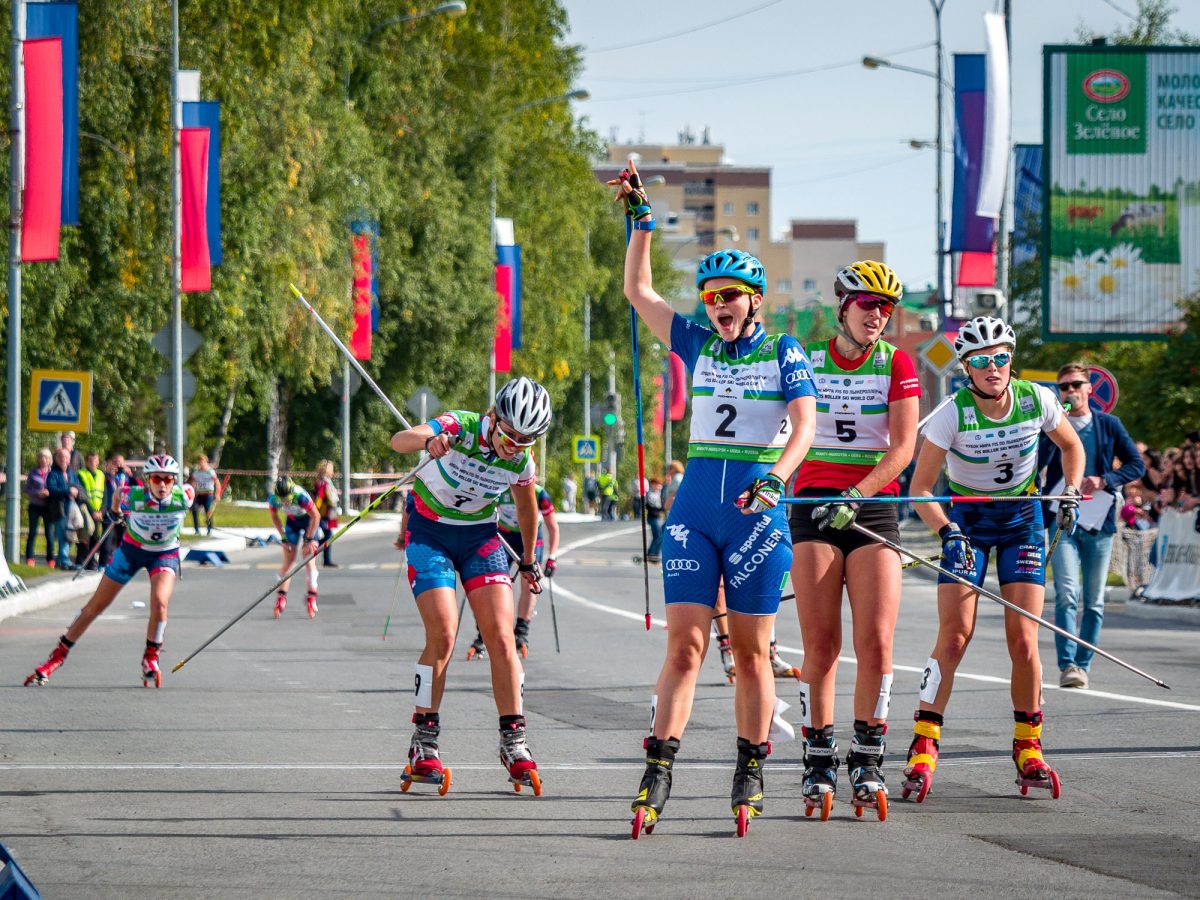 The start list of junior men race included 22 athletes. Alexander Grigoriev of Russia, who became the overall leader after sprint, was easy to be noticed among others due to his bright red-orange bib.
Along the distance leaders were changing pretty often, nobody dared to push forward for quite a long time. After 9th kilometer of the race Angelo Buttironi of Italy decided to break from the main group. Still it continued to ski without any speeding up and gradually caught up with him again.
The key moment of the race was the turn of the last lap. Grigoriev pushed harder and successfully took off the group. Only Angelo Buttironi and Konstantin Mochalov managed not to break from the leader. They crossed the finish line in this very sequence.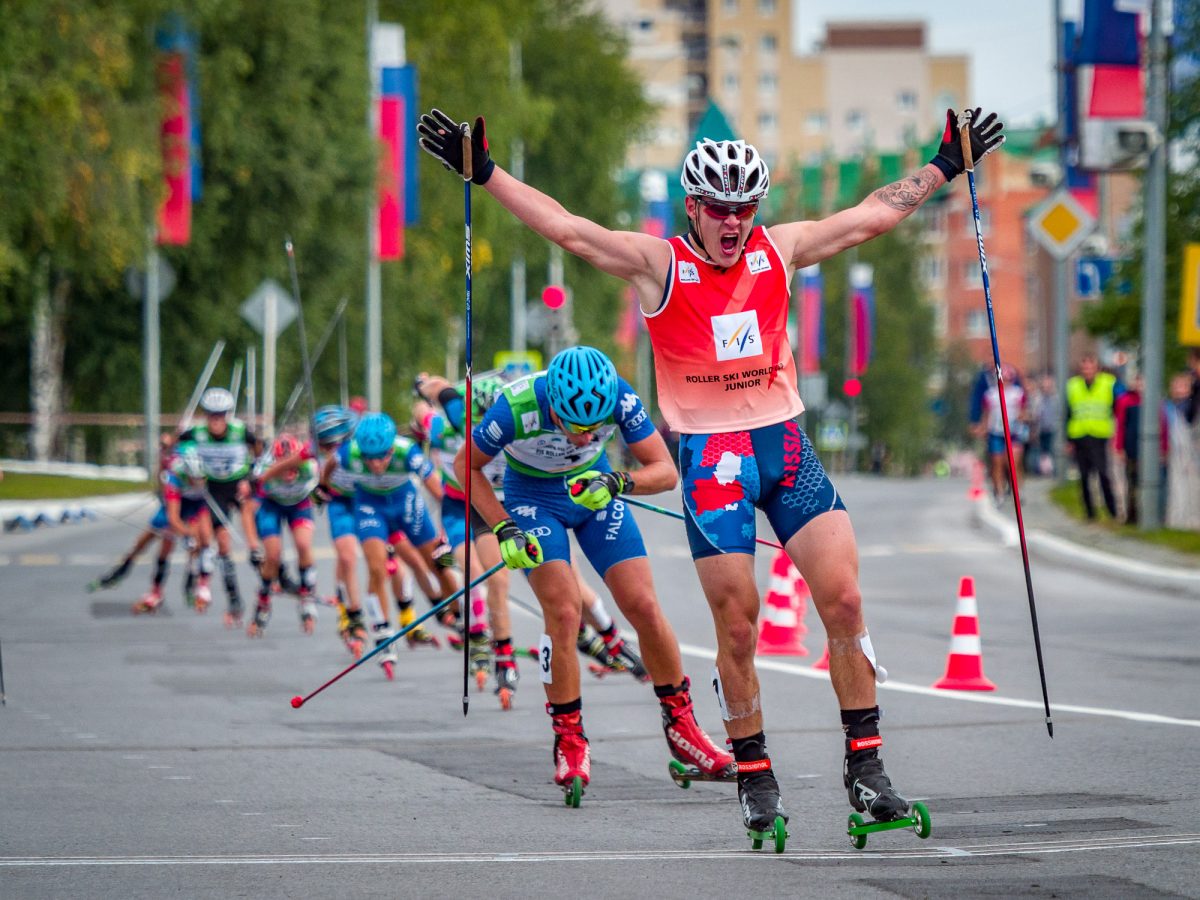 "I don't know how it worked this way, – said the winner and three-time gold medalist of the leg. – I wasn't among leaders during most part of the race. I knew, that my finish spurt is strong and there's no use to try to push forward before the last hundreds of meters. So I just kept myself in the shadow. But before the last turn I pushed forward and speeded up. I was expecting an attack of the Italian but he didn't do it. So it was not that hard".
What matters in mass-start is not only physical conditions of an athlete but also his strategy and an ability to feel a race and to distribute all strengths along the course. Besides, it's a team work. All this was demonstrated by Ilia Bezgin in men mass-start. For quite a long time he was keeping in the middle of the main group but wasn't losing his positions. Five kilometers before the finish line Jan Koristek of Slovakia decided to break forward and even managed to push around 10 meters ahead of his rivals. This was a crucial moment of the race. At that moment, while others pushed to catch up with Koristek, Ilia Bezgin continued to speed up and one lap before the finish line had a very comfortable advantage. As a result the chasing group was not able to catch him. Ilia managed to finish with his arms up. Francesco Becchis was the second to cross the line. Ivan Anisimov of Russia won bronze.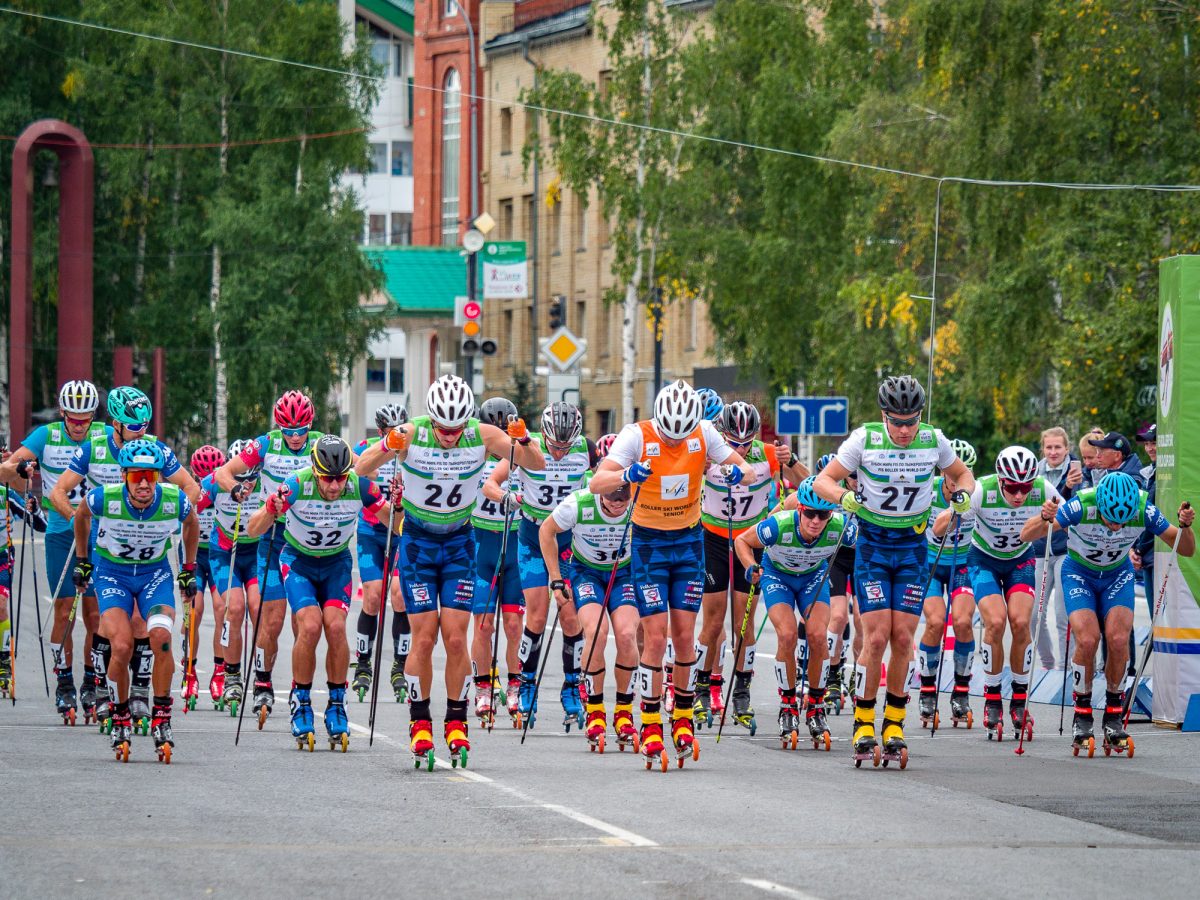 "Flat races are always good for me. I know my strong parts and I had a certain plan. Russian team worked very well today. The entire race was completely under our control. It is possible to say that we dictated its terms. I don't know how I managed to finish. My sunglasses steamed up – I was like in fog. I kept myself in an air-pocket behind Slovakian guy and then decided to stake my all. I want to thank all the fans, they are supporting us so well. This gives much energy", – said Ilia Bezgin.
On the third leg of FIS Roller Ski World Cup team Russia won 20 medals, 9 of them are gold. It is worth noting that Alexander Grigoriev with his 3 gold medals in Khanty-Mansiysk managed to become the overall leader of the circle.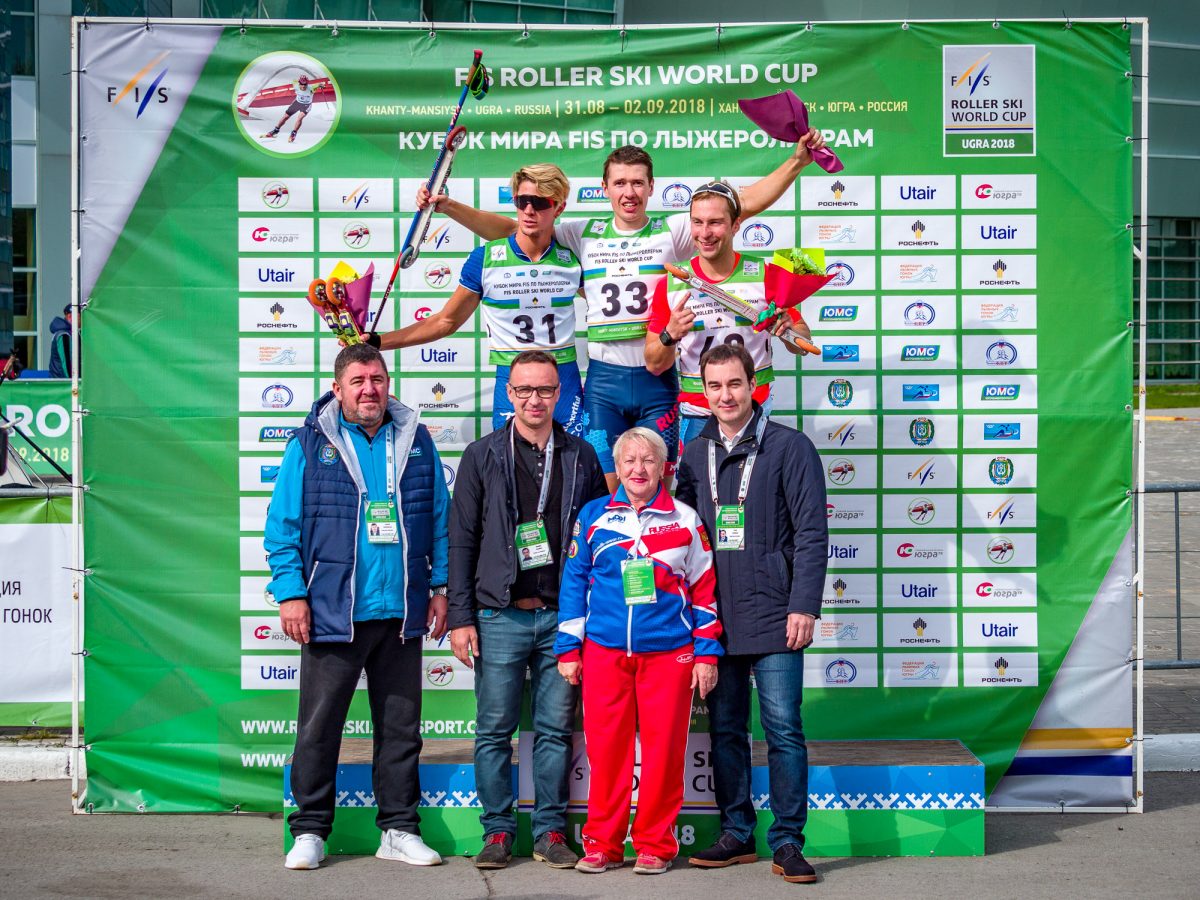 Now the third leg is over. Athletes will go to Italy now and in two-week time will compete on the final leg of the season. Wish them all good luck!